Thanks to author Suzanne Kingsbury for this fine commentary. You are an inspiration. And also, you crack me up, girl.
Finding Your Sweet Spot (I promise this is only a little x-rated!)
November 3rd, 2011 by suzanne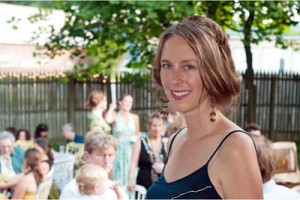 The most fabulously incredible thing is happening in
Brattleboro
, it's called
the Desha Show
,
a talk show interviewing people who are living in their sweet spots. So, if you were ever wondering why doesn't the spot I'm in feel sweet? Well, you can find out how others got to their sweet spots on the air with Desha Peacock as hostess extraordinaire.
The show just this second launched its fourth episode featuring
Ayda Robana
, culinary chef to the stars and owner of
Om Sweet Mama's
in Santa Barbara (where else?). On other episodes she has interviewed
Cirque du Soleil
performers and wild comic book writers and my goodness absolutely anyone who has shot for the moon and landed among the stars including ummm a novelist/editor you might know, but I won't mention any names.
This particular show is cut through with scenes from the Desha Show fun-raiser, the absolute highlight of everyone's summer, a sparkling celebration under the cradle of a quarter moon right here in my own hometown of Brattleboro, Vermont. Piles of artists and performers and writers and fans came from as far away as California, and the lawn was decked-out in shabby chic décor that would have made
Rachel Ashwell
proud. We all drank watermelon mojitos and beautiful people milled around everywhere. Ayda cooked grilled shrimp and lamb meatballs and hundreds of other delectable tapas while Red Heart the Ticker played a sexy set and then House of Wolves lullabyed us before he ran away on his European tour. He really does sometimes lullabye, it's very sweet spotty.
Everyone there was living in his or her sweet spot at least for that night. And while I was standing with
Margie Pivar
admiring her splash-of-pink dress and talking about her screenplay which was just this minute picked up in Hollywood, I thought how my grandma Maggie would have loved this party, wearing a fancy shift on a summer night with an open bar at her side. As we know, Maggie wallowed in her sweet spot and was friendly with all the other 1940s sweet spotters, and I just had to run right home and dust off the diary and the blog, which has been in deep deep remission (a topic for another time) and finally finally finally check in with Grandma Maggie on Saint Mark's place as she drinks her champagne and eats her coconut cakes and to say thank you thank you to all you sweethearts (and sweet spotters) who dare to stop your busy lives and follow her…