Want to know a good reason to use
Pinterest
? Because you might meet someone really cool, like
Tina Tangalakis
, fashion designer and social entrepreneur extraordinaire.
Somehow in this magic online world she started following
me
on Pinterest, so of course I had to check
her
out, liked her style and one thing led to another... to make a long story short I sort of stalked her online.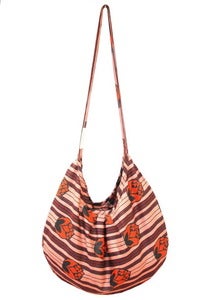 And this is what I found out: Tina combines her passion of fashion design with her love of travel and humanitarian work- now that's something I can relate to. According to this article in
Darling Magazine
, she is a native of Los Angeles and found
Della
in 2009. In just three short years, she is selling her products at Nordstrom. Wow. And equally as impressive, a portion of the proceeds goes to skills training and educational programming for the women who make these lovely products in Ghana, West Africa.
Now it's really nice to feel good about what your buying, and we can all agree we'd love to support other women in the world, but let's be honest- it also needs to look good and that's where Tina has it RIGHT. She's designed products that women would buy regardless of her mission and that's where I think there is room in the fashion industry to grow. We want to buy pretty, affordable things and feel good about it, and that's just what Della does.
Want to see more? Shop
Della
online and get me something while your there. K?